Trudi Ballantyne
F.C.A | P.P | Director
Trudi grew up on a dairy farm just north of Whangarei. She went to Northland Polytechnic to attain her Chartered Accounting qualification.  Trudi is married to Pete and they have two grown children.  They moved to Te Puke in 2001 where she started working at Stem. In 2003 Trudi became a partner and in 2012 became the sole owner of the business, until April 2014 when Martin also joined Trudi as an owner.
Dairy Farm accounting is a real passion for Trudi. She has been able to take the practical knowledge gained from growing up on a dairy farm and apply that when talking to her clients. Trudi sees an important role is to come up with practical and innovative solutions to help her clients through the challenges and joys of owning and operating a business.
During her spare time Trudi enjoys reading, relaxing by the beach and exploring in her campervan.
2016 saw Trudi awarded with the prestigious Fellowship Award by CAANZ. The award recognises members who are role models for trusted leadership in business and finance.
Xero Advisor Certified
Figured Certified Advisor
Email: trudib@stemrural.co.nz
Martin Pipe
C.A | P.P | Director
Martin grew up on a dairy farm in the small farming community of Reporoa before moving to Hamilton to attend the University of Waikato.  After completing a Bachelor of Management Studies he started his Chartered Accounting career at Staples Rodway Hamilton, where he gained entry to the Chartered Accountants (C.A) College.  Martin joined Stem in 2012.
His passion for chartered accountancy lies in assisting clients to develop and grow their business.  The arrival of cloud technology has changed the playing field for small business and Chartered Accountants.  This technology allows easy interaction for clients where regular engagement with them stimulates growth and profitability within their business.
Martin enjoys family time with his two young daughters, listening to music, mountain biking, water sports and getting to the mountain with the snowboard.
Xero Advisor Certified

Email: martinp@stemrural.co.nz
Nick Cole
C.A | P.P | Director
Nick joined the team in February 2015. He graduated from Leeds Metropolitan University with a Degree in Accounting and Finance. Nick qualified as a Chartered Accountant in April 2019 and became a Director of Stem in May 2019.
Nick's first career in the UK was working in a national telecommunications company as a fibre optic engineer and then as a contracts manager.
On arriving in New Zealand twenty-two ago Nick initially worked on his brother-in-laws dairy farm in the Waikato for a season and then spent time relief milking. He then joined a local Putaruru rural accounting firm before moving on to Tauranga.
Nick specialises with Xero add-on software such as Figured & Syft.
In his spare time Nick enjoys caravanning, motorcycling & walking up Pap Hills.
Xero Advisor Certified
Figured Certified Advisor
Spotlight Reporting Certified Advisor
Email: nickc@stemrural.co.nz
Nikki Baguley
C.A | Senior Accountant
Nikki Joined Stem in November 2018. She graduated from Waikato University with a Bachelor of Management Studies degree. 
Nikki started her career at Deloitte in Hamilton where she gained her Chartered Accountants qualification before transferring to the Deloitte office in London. On returning from London Nikki has been based in the Eastern Bay of Plenty area and has worked for Chartered Accountancy practices in Whakatane before moving to Tauranga.
In her spare time Nikki loves walking, travelling the playing bridge.
Xero Advisor Certified

Email: nikkib@stemrural.co.nz
Tracy Grainger
A.C.A | Senior Accountant
Tracy joined us in January 2019 as a Senior Accountant. She has over 30 years of experience with Chartered Accountancy firms in New Zealand, during which she has achieved her qualification as an Associate Chartered Accountant.
In her spare time Tracy enjoys tending to her garden oasis.
Xero Advisor Certified

Email: tracyg@stemrural.co.nz
Hayley McCready
Senior Accountant
Hayley joined Stem as a Senior Accountant in November 2020. She came from a Chartered Accountancy firm in Tauranga who she was with for 14 years.
Hayley lives in Tauranga with her 3 young daughters.
In her spare time Hayley enjoys socialising with her friends, walking and spending time at the family bach in Omaio.
Xero Advisor Certified

Email: hayleym@stemrural.co.nz
Lesley Dodunski
A.T | Accounting Technician
Lesley joined us in June 2015. Having completed her Accounting Degree, she is currently studying for her C.A qualification.
Lesley & her husband have a love for fishing and anything beach related. She was born and bred at Waihi Beach, just up the coast, and has two young sons who keep her on her toes.
Xero Advisor Certified
Email: lesleyd@stemrural.co.nz
Sir Baa's Alot
Mascot
Sir Baa's Alot is a plastic sheep! He loves wearing his Xero swag and spends his time greeting our clients when they pop in.
Nick Tomsett
A.T | Accounting Technician
Nicholas joined Stem in October 2016. He graduated with a Bachelor of Business Analysis (Financial) majoring in Finance and Accounting from Waikato University. Nick is currently studying for his C.A qualification.
In his spare time he play's lawn bowls and represents Bay of Plenty.
Nicholas was born and raised in the Western Bay of Plenty in the McLaren falls area.
Xero Advisor Certified
Xero Payroll Certified

Email: nicholast@stemrural.co.nz
Vicki Herdman
Accounting Technician
Vicki became part of the Stem Accounting Team in late 2001 and as such is very much part of the Stem team. She has good all round knowledge in all aspects of day to day accounting – plus she keeps the tidiest desk in the office!
A keen interest in Squash as a player and committee member has kept her out of mischief over the years. The whole family loves to escape down the East Coast at Christmas with family and friends.
Xero Advisor Certified
Email: vickih@stemrural.co.nz
Kate Pomare
Accounting Technician
Kate joined us in June 2022.
She has Business Degree and a bookkeeping background, so is well versed in the needs of our clients. She's also got plenty of experience with Xero so can help out with all your queries.
Kate lives locally with her Husband and 3 children and enjoys being at the beach with her family in her spare time.
Xero Advisor Certified
Email: katep@stemrural.co.nz
Lisa Martin
Accounting Technician
Lisa joined Stem in May 2023.
Raised on a sheep and beef farm in the Kaipara Hills, she graduated with a Business degree and spent 8 years working in Sydney and London in the finance industry. Since returning, Lisa has been bookkeeping with Xero for a variety of clients.
Lisa lives rurally in Te Puke, with her husband and two sons, on a lifestyle block with sheep and Avocados.  In her holidays she can usually be found in their caravan, or tent, camping with friends and family.
Xero Advisor Certified
Email: lisa@stemrural.co.nz
Leonie Hinaki
Client Support Manager
Leonie started with Stem in 2006 and is the backbone of our organisation having built great relationships with many of our clients. Prior to working at Stem Leonie had spent 11 years as PA to the CEO of Comvita.
Leonie's current role sees her providing bookkeepping support to our clients with their wages & accounts receivable & payables. Leonie also looks after our clients Company & Trust records.
Leonie enjoys spending time with her two  grandchildren. She is still waging war with the constant battle to 'keep fit!' – some things never change.
Email: leonieh@stemrural.co.nz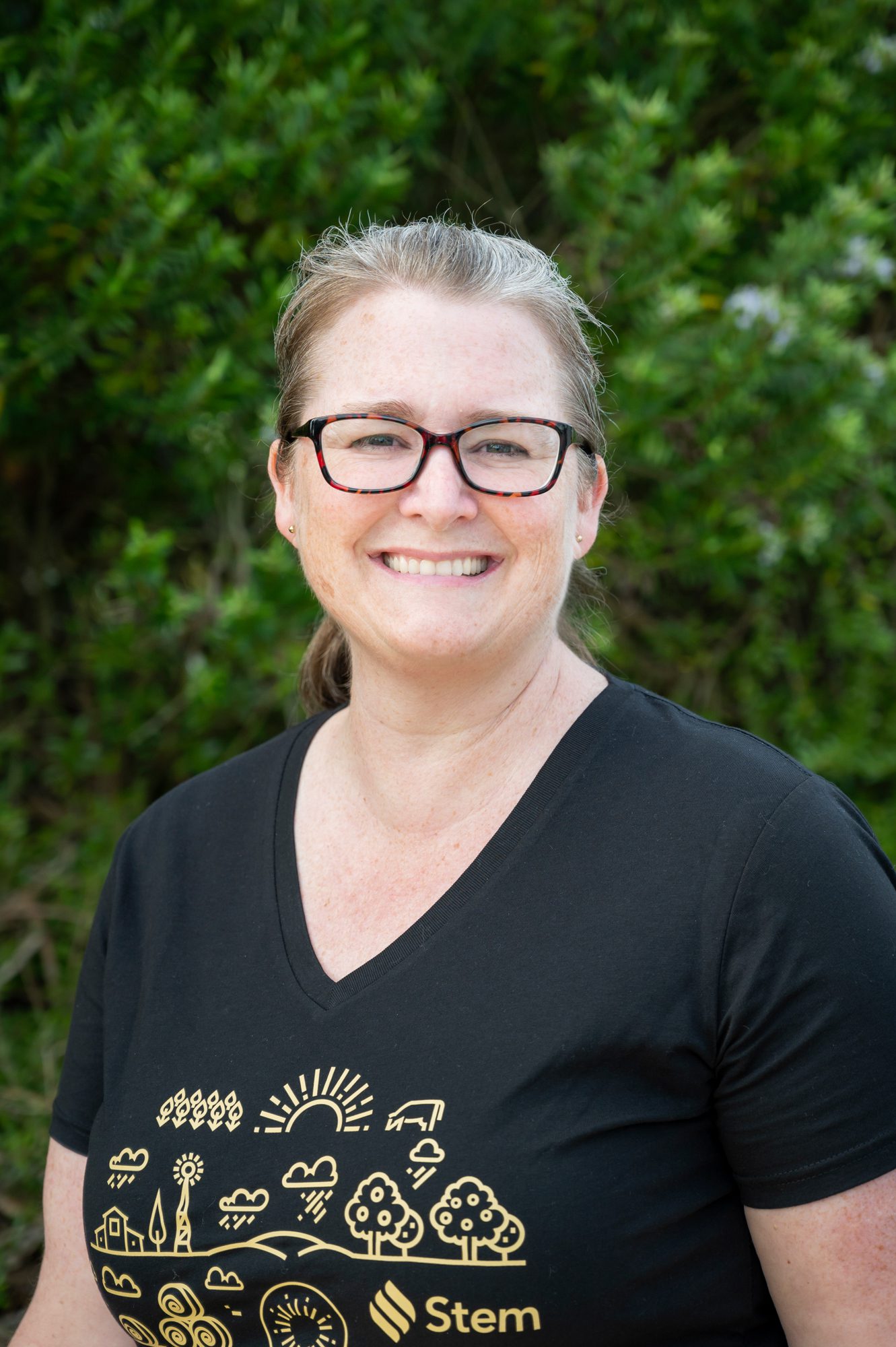 Sarah Brown
Business Support Manager
Sarah is your first point of contact with Stem. Sarah runs reception & also provides fantastic support to the Stem team looking after our client invoicing, client onboarding and 'delivering' of final accounts.
Sarah's  children and their various activities keep her busy outside of work. However, as an avid reader she always ends her day with a few pages from her current book.
Email: sarahb@stemrural.co.nz